CTHS
A Little Messy
at 12.14.08 - 01:55 pm
Sorry about that. I spent practically all day yesterday fixing up this code, so now I just have to do it for all the other pages:
-comic archive
-comic page
-news archive
-custom pages

Ugh. It's going to be worth it, though. I'm glad I'm following this through instead of settling for a halfassed layout that doesn't make sense. So just bear with me for a few more days and it'll be fixed again.
posted by stripedwine - 2 comments
CTHS is generally updated around the weekend.
The setting of this AU is a pre-war (and predominantly G1) Cybertron, when actions still determined friendships and rivalries rather than faction. The story is mostly told through the eyes of a young Skyfire as he enters his senior year at Cybertron High, watching as his friendship with a certain tetrajet slowly deteriorates.

But of course the shuttle has to deal with everyone else on the hard road to college (and freedom). Though these interactions may lead to trouble or some other misadventure, Skyfire might learn that not everyone at a public school is as bad as he likes to think.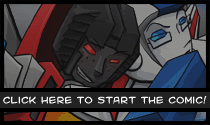 ► List of Characters
► Table of Measurements
► Cybertronian Sports
► CTHS Covers
► Comic Art Tutorial
► Join the Facebook Group!


Link Here